ABOUT KEN GILLILAND
Ken has been doing art from about the time he could hold a pencil. Even in elementary school and junior high he showed great promise as an artist—recognized in the school district city-wide art shows with several first place ribbons. It was at this time he adopted the signature "Keith". The reason being that his art teachers were constantly calling him "Keith"—his father's name who happened to be a popular teacher in the area. Ken says, "…well I decided to make it easy on them (the teachers)—besides my middle name is "Keith" and "Ken" didn't sound right— with a signature "Gilliland" or worse "Ken Gilliland" – who'd be able to see the painting under that scrawl…"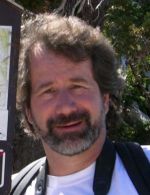 At 15 years old, Dore McLellan, a local artist, introduced him to oil paints. Within a year, he was selling paintings at local art shows and accepting commissions. He graduated from Crescenta Valley High School with a State Scholarship, the La Crescenta Women's Club Outstanding Achievement in Art Award and a summer scholarship to Art Center. After a summer at Art Center, Ken enrolled at California State University, Northridge as an art major in the fall of 1978. He turned his artistic focus to drawing and painting people, taking classes at CSUN in illustration, painting and figure drawing. It was also there he met a popular Southland artist, D.J. Hall, who was teaching at CSUN at the time. While Hall's influence is clearly visible in Gilliland's paintings, he also credits CSUN art professors, Sol Bernstein and Watson Cross, with having an impact on work.
Graduating from CSUN with a BFA in 1983, he continued to paint in his spare time while he worked his "day job", creating a series of paintings of friends that he called "contemporary portraits". At this period he also experimented with Scenic Design and Painting for local theaters and schools, running a social club and newsletter and computer programming, music and art. In 1987, he showed his paintings with the "Sharing Friends of the Arts" in Hollywood and the following year at Gorky's Café in downtown Los Angeles. He was also featured in an article in the Glendale News-Press. While the public reception of his work was positive, the sale of his work wasn't, so he turned to computer programming and began to sell "clip-art" to a national distributor, Asgard Software.
By 1990, he formed his own company, Notung Software, and began to release clip-art, games and multimedia packages based on art and periods of history.
In February of 1993, a close friend got Ken to see that he was not only painting portraits of friends, but also very strong personal and social commentary messages. Ken, realizing that he could use his art to help people, cure social ills and make a "difference", began to paint again. He also worked up his courage and walked into the Orlando Gallery, hoping to be represented there. He became one of the core artists at the Orlando Gallery and stayed there until it closed it's door in 2012. Currently. he represents himself.
In 1998, Ken returned to the computer art world started working with 3D digital art. In 2001, he began publishing through several 3D content stores. He has published at Zygote, VIP, Cornucopia, DAZ 3D, Hivewire3D and Renderosity. With the start of 2003, a partnership with another artist, B.L. Render, would forever change the direction of Ken's digital art pursuits. They together created a generic bird that could be easily altered in to hundreds of different species called "Songbird ReMix". Here he found a way to create art, express environmental concerns and make some money. Since then, he acquire the moniker "3D birdman" and has spoken at Siggraph Conference about digital bird creation. Currently he publishes through Renderosity.
He is now a full-time fine and digital artist, a guest teacher of art, photography, birding, native plants and other environmental issues and inductee in the TI-99 Hall of Fame.