The House that Ken Built
When I purchased my house way back in 1988, it wasn't the house of my dreams-- what first house is? The first 6 months were rocky. Finances were tight, a wedding-bound relationship ran aground and a frustrated artist couldn't find an outlet. By the start of the summer in 1989, I had a vision. I needed a front porch swing. That would make it my house-- only one problem... there was no front porch. The house had been moved on to property from whereabouts unknown in the mid 70's. It had been a ranch-style house and the building mover thought adding the Tudor styling might help. Tearing open walls it had even been something else before the Ranch style-- but who knows what. The building dated back at least to the 1940's from the framing style. I decided since it had worn so many hats, it was my blank canvas and I wanted to live in a Queen Anne-Victorian.
So I start brainstorming, looking at LA's Carrol Street, digging into books and my own sensibilities... and for the next 6 years it became my Winchester house...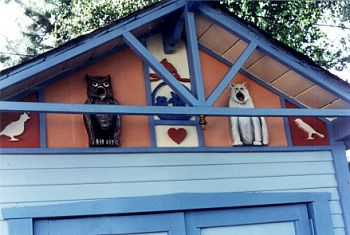 With improvements to the house and a real garden, there came to need for a garden shed. Of course, I could just put up one of those tin sheds so my own weird sense of humor went into building the shed complete with bird houses. Yes, the bird's nesting entrance is inside the cat's and owl's mouths. Also, featured is a Quail (left), an Oak Titmouse, flowers & heart (center) and a Scrub Jay (right)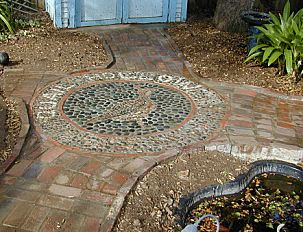 Ken's new "Quail Hollow" mosaic centerpiece for the walkways junction. Created with brick, beach pebbles, river rock, quartz, marble and good ol' Tujunga rock.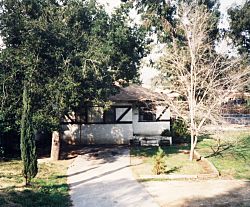 The original house in 1988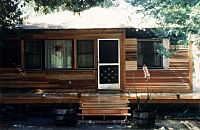 Under construction 1989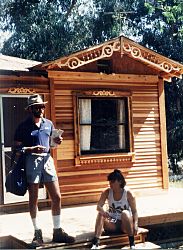 More work 1989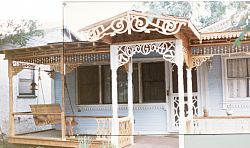 The front porch cover goes up 1989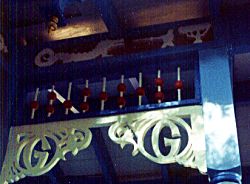 Siegfried fights Fafner the Dragon in one of the many gingerbread reliefs on the house.
Sketches & Transformations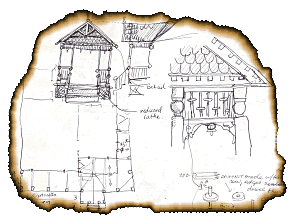 Some of the original sketches of what Ken wanted the house to look like.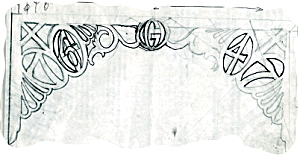 The front porch entrance with the address sculpted in gingerbread.
The kitchen before and after